Daniel Brierley

Chi King InstructorPrinciple Tutor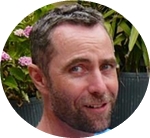 Chi Kung can be translated a 'energy work'. Chi meaning energy, and Kung meaning work. Chi is the ancient chinese understanding of the concept or idea that there is a life force or energy that governs and affects all life. Also the belief that through proper exercise and breathing techniques we can have a very positive effect on this energy in our bodies for general health, healing and wellbeing.

Chi Kung includes postural exercise, breathing techniques, static postures walking forms and meditation.
Chi Kung movements are simple and each action aims to move Chi in a specific way. The movements take their inspiration from nature and are suitable for all ages and abilities.

Elemental Chi Kung is a progressive approach to Chi Kung that incorporates classic styles and philosophies with modern bodymind and energy concepts.
The approach explores body and chi awareness as a way to deepen into our internal chi flow through movement, stillness, meditation and breath. A creative space is sought to allow our essential nature to express itself and bring about transformation. The approach emphasises the five elements as the foundation for chi kung.

Daniel is a Principle Tutor at the College of Elemental Chi Kung.
Working with the breath with a relaxed body and calm mind can help you achieve:
An increase in body awareness

Better coordination and balance

Greater strength and stamina
Greater physical and mental resources to cope with life
Better all-round health and vitality