Maya Lay

Yoga Instructor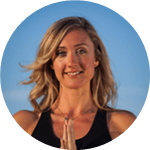 Yoga with Maya.
I first experienced the healing benefits of yoga for the mind and body in 2002, when my mother introduced me to the practice, and it has been a constant part of my life ever since.
As qualified primary school teacher, I first trained to teach yoga to kids before realising that I would love to share the practice with adults too.
Having practiced many styles for more than a decade, including Sivananda, Vinyasa Flow and Iyengar, I became certified in the Jivamukti method.
My classes have a strong focus on mindfulness and moving with the breath.
They include flowing sequences with an emphasis on proper alignment - so that postures are practised safely and mindfully – and end with a deep relaxation.
Classes aim to both challenge and nurture and always encourage students to cultivate a compassionate attitude towards themselves on the mat. I feel passionate about sharing a practice which has been so life changing and beneficial for me and am grateful to be continuously learning alongside students.
Join Maya's class at Southfields Physiotherapy.
Friday Morning Earlybird Class:07:30-08:30
If you would like to join or find out more please contact Maya.
This email address is being protected from spambots. You need JavaScript enabled to view it. 07766 142 235